As the saying goes, dogs are a man's best friend. And as pet owners, we want to make sure they're happy, healthy, and entertained. Lucky for us, the market is flooded with hundreds of dog gadgets that can make our furry friend's life easier and more enjoyable. From activity trackers to dog cameras, there's a gadget for almost every aspect of their life. We've compiled a list of the best dog gadgets every pet owner must have.
These gadgets are specifically designed to improve the life of your furry friend and make your life easier too. Whether you're looking for a tool to help you monitor their activity. Keep them cool during hot days, or simply want to spoil them with a smart toy, we've got you covered. So, without further ado, let's dive into the best gadgets for dogs.
Best Dog Gadgets: Many Categories For Various Applications
When it comes to taking care of our furry friends, the market is flooded with various gadgets and accessories that are designed to make our lives easier. From toys to training tools and health monitors to feeding solutions, there's no shortage of options.
In fact, the term "gadget" means an innovative or useful device, and that's exactly what the best gadgets for dogs aim to be. There are many categories for various applications, and it's easy to get lost in the sea of options.
However, with a little research, pet owners can find the perfect dog gadgets to suit their needs and help keep their furry friends happy and healthy. Whether it's a GPS tracker to keep tabs on their whereabouts, an automatic feeder to ensure they're fed on time, or a toy that stimulates their senses and keeps them entertained, there's a gadget out there for every dog and every owner.
In light of this, we've divided the best dog gadgets into the following categories:
Interactive Toy Gadgets For Dogs:
Interactive toy gadgets For Dogs are amazing toys for pets that offer unique opportunities for enrichment and activity. They are designed to stimulate a dog's mind and encourage physical exercise, both of which are crucial for their mental and physical well-being. These toys often incorporate different textures, sounds, and movements that stimulate a dog's senses and keep them engaged for longer periods of time.
Interactive toys can range from puzzles and treat dispensers to automatic fetch machines and laser pointers. They are perfect for dogs that require extra stimulation or suffer from boredom, anxiety, or other behavioral issues. With so many unique and exciting options available, there is an interactive dog toy gadget for every type of dog out there.
Check out these interactive Dog toys:
1- Varram Fitness Robot:
The Varram Fitness Robot is one of the most amazing dog gadgets on the market today. This unique pet toy is designed to help your furry friend stay entertained and mentally stimulated while also encouraging them to exercise. With a range of engaging features, including automatic obstacle detection and customized activity programs, this fitness robot is an excellent way to keep your pet happy, healthy, and engaged.
Whether you're looking for a fun way to get your dog moving or simply want to keep them entertained while you're away, the Varram Fitness Robot is the perfect solution. So why wait? Invest in this fantastic piece of technology today and discover all the amazing benefits it has to offer your furry friend!
It has 16 different play modes to prevent your dog from becoming bored.
Constructed from durable and easy-to-clean polycarbonate material
Water-resistant (Droolers delight!)
Will operate continuously for up to 4 hours on a single charge.
It's a hassle to refill and recharge.
Adding and removing the clear protective case is difficult.
Requires a particular size and type of snack.
2- GoDogGo Ball Launcher
The GoDogGo Ball Launcher is considered one of the best gadgets for dogs currently in the market. This device is perfect for pet owners who lead busy lives and do not have enough time to play with their furry friends. A tennis ball is placed inside the launcher and the machine shoots the ball at an impressive distance. Its automatic feature keeps your dog entertained and ensures they get the exercise they need.
Additionally, the ball launcher allows dogs to play fetch, an activity that most dogs love, thus avoiding boredom and destructive behavior. In short, the GoDogGo Ball Launcher makes playing fetch with your dog enjoyable and effortless, ensuring both you and your furry friend stay happy and healthy.
Safety arc and safety sensor.
Bucket with a wide mouth for balls.
Lightweight and portable.
The number of time settings, both inside and outside.
Owner-controlled or independent play.
Requires safety instruction before use.
There is a 10-foot maximum for the AC adapter cord.
3- CleverPet Console
The CleverPet Console is a smart gadget for dog owners who want to keep their furry friends entertained and mentally stimulated. This console is designed to provide dogs with various cognitive challenges through its interactive feeding system. It has a touch-sensitive light-up pad that requires dogs to press on it to release food rewards, which can be customized to match their preferences. This gadget is also equipped with sensors and cameras, making it possible for owners to monitor their dogs' activities remotely.
Gadgets like the CleverPet Console make it easier for owners to give their dogs the mental stimulation and exercise they need to stay healthy and happy. Overall, it is a great investment for dog owners looking to provide their pets with an engaging and fun experience.
Engages pets through play
Provides mental stimulation
Easy to use
Improves pet behavior
Customizable difficulty levels
Expensive
Requires electricity
Only suitable for certain pets
Limited game options
Can be noisy.
4- Pet Qwerks Babble Ball
The Pet Qwerks Babble Ball is undoubtedly the best dog gadget on the market. It is not only entertaining for dogs but also an effective tool to improve their cognitive and physical abilities. Give your dog a Babble Ball and watch them become amused with the unique sounds it produces. The ball has an inner microphone that activates random sounds when your dog touches or shakes it. It is perfect for pets that get bored easily, as it keeps them engaged for hours.
Gadgets to make your pet's life better are becoming more and more popular, but Pet Qwerks Babble Ball is exceptional because of its ability to entertain and educate your dog. This is indeed a fantastic innovation that is worth investing in if you want to improve the quality of your dog's life.
Motion-activated, and when not in use, has a self-shutoff feature.
Over 20 different sounds are produced to keep your dog guessing.
Made from robust, thick plastic.
Some puppies find the hard plastic off-putting and would rather chew on and throw something more flexible.
It doesn't bounce either, which is a little disappointing.
It's possible that all the noises bother dogs who spook easily.
Food and Water Gadgets For Dogs
Dog owners love their pets and always want to make their lives as comfortable as possible. One way to do this is with amazing dog gadgets like food and water dispensers. These gadgets make life easier for pet owners because they don't need to worry about feeding schedules or water bowls that are always spilled. These gadgets are also great for small dogs who need frequent meals and water because they are small and need to replenish their energy frequently.
These gadgets come in different sizes and styles, making it easy for pet owners to find one that suits their pet's needs. Overall, investing in food and water gadgets for dogs is a great way to ensure your furry friend is happy, healthy, and comfortable.
1- PetSafe Smart Feed Automatic Dog Feeder
The PetSafe Smart Feed Automatic Dog Feeder is a smart pet gadget that pet parents will appreciate. With this device, feeding your dog has never been easier. Even if your dog is on a strict feeding schedule or requires medication at specific times throughout the day, you can program the feeder to dispense food and medication at the right time. The PetSafe Smart Feed Automatic Dog Feeder is also great for pet parents who are constantly on the go or have busy work schedules.
You can use the smartphone app to remotely manage the feeder and ensure that your furry friend is getting the proper nutrition they need. Additionally, the feeder is designed to prevent overeating, which is great for maintaining your dog's weight and overall health. Overall, the PetSafe Smart Feed Automatic Dog Feeder is a must-have for any pet parent looking to simplify their dog's feeding routine.
Convenient and customizable feeding.
Controlled portion sizes.
Holds a lot of food
Delivers food on time
Expensive
Limited to dry food only
2- Hyper Pet IQ Treat Mat For Dogs
The Hyper Pet IQ Treat Mat is the perfect pet gadget for training your dog. Made with non-toxic and durable materials, this treat mat can be used as a boredom buster and a training tool for your furry friend. It is designed with different patterns and ridges that can hold your dog's favorite treats, encouraging them to solve puzzles and engage in positive behavior. By using this treat mat, you are not only providing your pet with a fun activity, but you are also training them to focus and problem-solve.
Overall, the Hyper Pet IQ Treat Mat is one of the best pet gadgets available for dog owners who want to keep their pets entertained and engaged while also promoting positive behavior.
Mental stimulation
Slow feeding
Limited treat capacity
May require cleaning
3- H2O4K9 Dog Water Bottle For Pets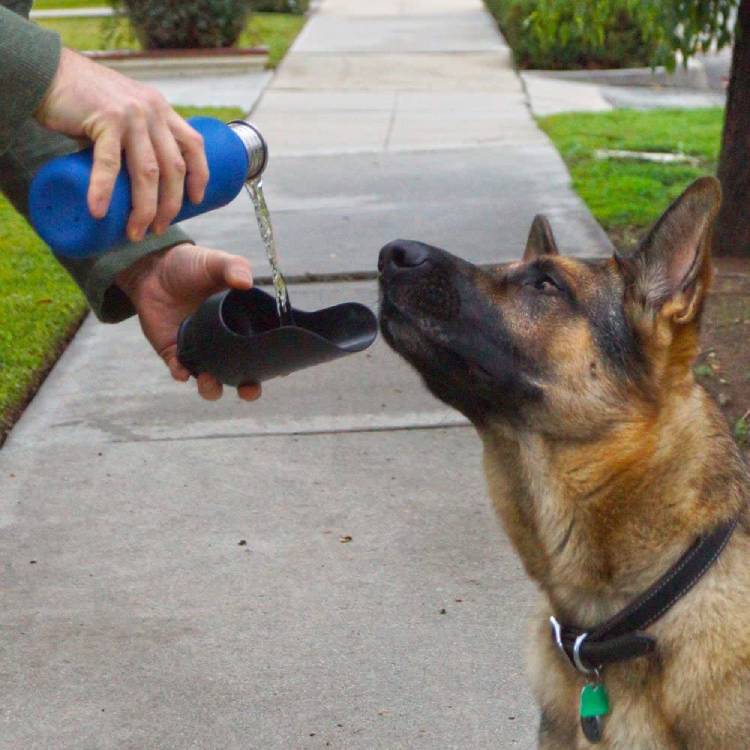 The H2O4K9 Dog Water Bottle is a smart and portable pet gadget that every dog parent should have. This water bottle is specifically designed for pets, allowing them to drink water comfortably and easily, no matter where they are. With its high-quality build and leak-proof design, the H2O4K9 Dog Water Bottle is perfect for outdoor adventures with your furry friend.
This bottle is also very easy to clean and can be reused multiple times, making it a great eco-friendly alternative to disposable plastic bottles. The H2O4K9 Dog Water Bottle is available in different sizes and colors and comes with a handy carabiner, making it easy to carry wherever you go. If you love taking your dog on outdoor adventures, the H2O4K9 Dog Water Bottle is a must-have pet accessory.
Portable
Leak-proof
Easy to use
Limited capacity
Requires manual refilling
4- Outward Hound Slow Feeder: The Ultimate Solution for Fast-Eating Dogs
The Outward Hound Slow Feeder is one of the best smart dog gadgets for training your dog at home. Dogs have unique needs, and their digestive systems are no exception. With this slow feeder, you can help your dog maintain a healthy weight by making mealtime a little more challenging. This feeder features raised ridges and a maze-like design, forcing your pup to work for each bit of food.
The result is a slower meal that promotes healthy digestion and less snacking throughout the day. Additionally, the feeder is made of sturdy plastic that is dishwasher-safe and easy to clean. Whether you're looking to help your dog lose weight or simply provide some fun and entertainment during mealtime, the Outward Hound Slow Feeder is an excellent choice.
Promotes slower eating
Helps prevent digestive problems
Encourages mental stimulation
Durable and long-lasting
Easy to clean
May not fit all bowls
Some dogs may not like it
Can be difficult to fill
May not work for aggressive eaters
May not slow down all dogs
General Canine Care Gadgets For Dogs:
Taking care of your furry best friend can be challenging, especially if you have a busy schedule. That's why you need to invest in the best dog gadgets that can simplify your pet care routine. To keep your dog entertained when you are away, consider getting a smart toy that can dispense treats when activated.
With these dog-care gadgets, you don't have to worry about your dog's welfare while you're busy or away from home. So, check out these dog-care gadgets today and give your beloved pet the care and attention it deserves!
1- Petcube Bites 2: The Smartest Way to Spoil Your Pets with Treats
Petcube Bites 2 is a smart tech gadget for pets that has revolutionized the way dogs are trained and treated. This innovative device is equipped with a camera, a two-way speaker, and a treat dispenser that can be controlled through a mobile app. With this high-tech gadget, dog owners can monitor their pets, interact with them, and reward them even when they are not at home.
Dogs get a steady supply of treats while their owners get the satisfaction of knowing that their furry friends are happy and well-fed. The Petcube Bites 2 is a game-changer in the world of pet care and has provided a new way of bonding with our furry companions
Interactive treat dispenser
Two-way audio communication
HD video streaming
Night vision capability
Expensive
Limited treat capacity
2- WIGZI Dual Leash: Walk Two Dogs with Ease
If you're a proud owner of multiple dogs, then the WIGZI Dual Leash is the best gadget for you. This sturdy and high-quality leash lets you walk two dogs at once while keeping them apart, tangle-free, and comfortable. No more struggling with multiple leashes and trying to untangle them while walking on the street. The innovative design of the WIGZI Dual Leash features a patented 360-degree swivel and a high-quality, tangle-free leash that will last for years to come.
The leash is also perfect for pet owners who love to travel with their furry friends, as it is a portable dog leash that is great for long walks in the park or on the beach. Your dog needs the freedom and warmth of a walk, so make sure you are using the best tools for it with the WIGZI Dual Leash.
Two dogs at once
Comfortable handle
Reflective stitching
Tangle-free design
Adjustable length
Heavy for small dogs
Not chew-proof
Expensive
Not suitable for heavy pullers
Bulky when not in use
3- Thundershirt: The Ultimate Solution for Anxiety and Stress in Dogs
The Thundershirt is a smart tech gadget for dogs designed to help calm them down during stressful situations. It works by applying gentle pressure around the torso, creating a calming effect on dogs that have difficulty with anxiety or fear. The Thundershirt is perfect for situations where dogs might feel nervous, such as during thunderstorms, fireworks displays, or trips to the vet.
Additionally, the Thundershirt can help manage excitement and hyperactivity in dogs, providing them with a sense of comfort and security. This innovative solution is easy to use and comfortable for regular dogs to wear. It's a simple and effective way to manage your pet's stress levels, making it easier for you to attend to other important tasks, like taking them out when they need to go outside.
Reduces anxiety/stress
Easy to use
Non-invasive
Affordable
Drug-free
Not effective for all dogs
May not address underlying issues
Some dogs don't tolerate it
Not a substitute for training
May not work immediately
4- SureFlap Pet Door: The Top Choice for Secure and Smart Access
The SureFlap Pet Door is without a doubt the best gadget for dogs. It is designed to provide your furry friend with easy access to the great outdoors while keeping unwanted animals out. The door operates on a microchip technology that allows only your pet to enter the house, thus ensuring that other unwanted animals are kept out. This feature is particularly useful if you have a pet that is easily spooked or aggressive towards other animals. Additionally, the SureFlap Pet Door can help with dog training.
By allowing your dog to go outside when it needs to use the bathroom, you are helping it learn how to regulate its bathroom breaks. The gadget is also useful for when you are away from home, as your dog can easily let itself outside and return inside without the need for a human to open the door. Overall, the SureFlap dog Doors are an excellent purchase that both you and your dog will love.
Secure
Easy to install
Energy efficient
Weatherproof
Programmable
Expensive
Requires microchip in dog
Limited size options
May not fit all doors
Not suitable for all pets
Dog Safety Gadgets
Dog safety gadgets are essential for pet owners who want to ensure the safety of their canine friends. One of the most popular gadgets is the Whistle go, a GPS device that keeps track of your dog when you are away. The device sends real-time location updates to your phone, allowing you to monitor your pet's movements and ensure their safety. Additionally, there are gadgets available that can alert you when your dog leaves a designated area or is at risk of overheating or dehydration.
Other safety gadgets include reflective collars, LED lights for increased visibility during night walks, and paw protectors to prevent frostbite or burns. By investing in high-quality dog safety gadgets, pet owners can provide their dogs with the necessary protection and care to keep them safe and healthy.
1- PetFon GPS Tracker: Best Pet Safety Gadget
The PetFon GPS Tracker is an amazing pet gadget that every pet owner must have. It helps you to keep an eye on your furry friend's location 24/7. PetFon GPS pet tracker is equipped with GPS technology that allows you to track your pet's movements, even if they go missing. It helps you to locate your pets if they wander away from home, and you can quickly retrieve them. It also allows you to set a safe zone for your pets, and you'll receive alerts whenever they leave or enter the safe zone.
This gadget comes in handy, especially for those pet owners who travel frequently with their pets. It helps keep them safe and secure, and you can always monitor their whereabouts. In conclusion, the PetFon GPS Tracker is a must-have gadget for every pet owner.
Accurate location tracking.
Real-time tracking updates.
Long battery life.
Waterproof and durable design.
Lightweight and compact
Requires a subscription.
Limited range of coverage.
May have occasional connectivity issues.
May not fit all collars.
Limited compatibility with devices
2- Kurgo Seatbelt Tether: The Essential Car Gadgets for Pet Safety
The Kurgo Seatbelt Tether is a must-have accessory for all pet owners who love to travel with their furry companions. This tether allows owners to secure their pets safe in the car, ensuring that they do not jump around and distract the driver. The best part about this product is that it allows owners to talk to their pets without having to take their eyes off the road. This means that they can praise their pet for being a good boy or girl while still driving safely.
The Kurgo Seatbelt Tether is easy to install and can be adjusted to fit any size pet. It provides peace of mind and safety for both the pet and the owner. So, if you love to travel with your pet, be sure to get the Kurgo Seatbelt Tether for a smoother, more comfortable ride.
Safe
Easy
Adjustable
Durable
Affordable
Restricts movement
Limited adjustability
May not fit all dogs
Not suitable for aggressive dogs
Tether may be too short
3- RUFFWEAR Swamp Cooler: The Perfect Tool to Keep Your Dog Cool and Happy
The RUFFWEAR Swamp Cooler is one of the best dog safety gadgets out on the market today. It helps your furry friend cool down and prevent heat exhaustion during hot summer days. The Swamp Cooler works by evaporating water on the vest's surface, dispersing it on the dog's fur, and dissipating heat through evaporation. Its battery life depends on the temperature and humidity. It can last for 2-4 hours when fully charged, allowing you to pick the perfect time for your dog's outdoor activity.
The Swamp Cooler also keeps your dog hydrated, as it has an opening in the vest where you can insert a water bottle. Overall, the RUFFWEAR Swamp Cooler is worth investing in for any dog owner who wants their furry friend to stay cool and healthy during hot weather.
Cools dog in heat.
Comfortable and adjustable fit.
Reflective for visibility at night
May not fit all breeds.
Can be expensive.
Requires frequent soaking.
4- Waggle Pet Temperature Monitor: The Ultimate RV and Car Accessory for Pet Safety
The Waggle Pet Temperature Monitor is an amazing gadget for dog safety, especially when traveling in RVs or cars. Designed to keep pets safe by monitoring and reporting any changes in temperature, pet owners can have peace of mind knowing that their furry friends are always comfortable. This device allows you to monitor your pet's temperature in real-time and receive alerts when temperatures rise too high or fall too low.
With the ability to set up custom temperature thresholds, pet owners can adjust settings to fit their dog's unique temperature needs. The Waggle Pet Temperature Monitor is easy to install and use, making it a must-have device for any pet owner who loves to travel with their furry companion.
Real-time temperature monitoring.
Alerts for abnormal readings.
Easy to install.
Works with multiple pets.
Wireless and portable.
Requires a subscription.
No GPS tracking.
Limited compatibility with devices.
May have connectivity issues.
May need frequent battery replacements.
5- Waggle Car & RV Temperature Monitor: The Ultimate Tool for Pet Safety on the Road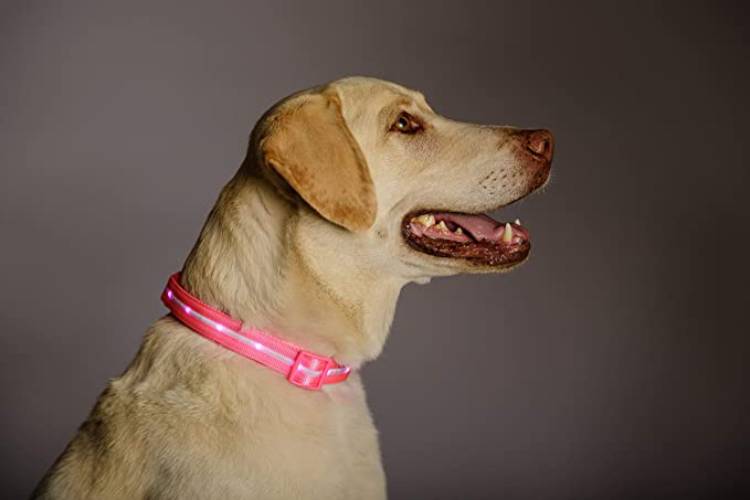 The Waggle Car & RV Temperature Monitor is probably the best gadget for dog safe while traveling in vehicles. This pet temperature monitor not only keeps pets comfortable but also ensures that they are safe from overheating or extreme cold. This device has become increasingly popular as it allows pet owners to monitor their pets' temperatures and avoid hazardous occurrences. With the use of advanced technology, it provides real-time temperature alerts and recommendations for optimal environment control.
It's an essential gadget for pet owners that love to travel with their pets. One can monitor their pet from anywhere with a real-time alert system, and the peace of mind this device provides pet owners certainly makes it worth the investment. The Waggle Car & RV Temperature Monitor is a must-have for those who love their pets and want to ensure their safety and comfort.
Real-time temperature monitoring.
Easy to install.
Wireless connectivity.
Compact size.
Alerts for temperature changes.
Subscription-based service.
Limited temperature range.
Limited compatibility with vehicles.
No GPS tracking.
May require additional equipment
Dog Grooming Gadgets
As a dog owner, it's important to keep your furry friend looking and feeling their best. One of the best ways to achieve this is by investing in some top-quality dog grooming gadgets. From canine hair clippers and nail trimmers to doggy-specific blow-dryers and brushes, there are a variety of gadgets on the market that can make grooming your pup a breeze.
The best dog grooming gadgets not only make grooming more efficient and effective, but they also help keep your dog comfortable and safe throughout the process. Whether you opt for an all-in-one grooming kit or a selection of specialty tools, investing in the right gadgets can help keep your pooch looking and feeling their best year-round.
1- Bissell Barkbath: The Perfect Grooming Tool for Your Furry Friend
The Bissell Barkbath is one of the best grooming gadgets for dogs that is designed to make baths a hassle-free experience for both dogs and their owners. This innovative product allows pet owners to wash their furry friends without the need for a traditional bathtub or shower. Instead, the Barkbath uses a special hose and shampoo system that allows users to easily clean their dogs while keeping them calm and relaxed.
It is also equipped with an adjustable brush head that lets pet owners scrub and massage their dogs' coats for a deep and thorough clean. With the Bissell Barkbath, pet owners can even talk to their pets while washing them, which can help keep them calm and reassured. And with its efficient cleaning and fast-drying technology, pet owners can save time and effort in keeping their dogs clean and healthy.
Portable
Easy to use
Saves time and money
Not suitable for all dogs
Requires frequent refills
2- Dyson Grooming Attachment: Best Grooming Gadgets For Dogs
Dyson Grooming Attachment is one of the amazing dog grooming gadgets available today. It makes grooming your dog more enjoyable and efficient. This gadget attaches to your vacuum and is designed to effectively remove pet hair from your dog's coat. The attachment has a range of bristles that are adjustable to accommodate different fur lengths, textures, and sensitivities.
Moreover, the gadget works best in removing loose hair effectively, reducing shedding in the process. This grooming tool from Dyson is perfect for pet owners who value cleanliness and hygiene. With its user-friendly design and reliable performance, it is undoubtedly one of the best grooming gadgets for dogs on the market.
Efficient shedding control
Easy to use
Compatible with most Dyson vacuums
Not suitable for all dogs
Can be expensive
May scare some dogs
3- Petural Nail Grinder: The Safe and Painless Solution for Your Dog's Nails
Petural Nail Grinder is one of the smart gadgets for dog grooming that has taken the market by storm. This nail grinder is designed to help pet owners take care of their furry friends in a more effective and convenient way. The grinder is equipped with a powerful motor that allows for efficient and quick nail trimming. It also comes with different grits of sanding bands and diamond bits, which makes it suitable for use on various nail types.
Another great feature of the Petural Nail Grinder is its low noise level, which helps to reduce anxiety and stress in dogs during grooming sessions. This gadget is also rechargeable, making it easy to use wherever you are. Pet owners who are looking for an effective and efficient way to keep their dog's nails trimmed should consider investing in the Petural Nail Grinder.
Gentle
Easy to use
Reduces risk of injury
Can be noisy
May take longer than clippers
4- Aquapaw Pet Bathing Tool: The Ultimate Solution for Easy Dog Grooming
The Aquapaw Pet Bathing Tool is a highly rated and highly popular product among dog owners. It is considered one of the best tech gadgets for dog grooming. This innovative tool allows you to effectively wash your dog with just one hand, making the process much easier and more efficient. The Aquapaw Pet Bathing Tool has a flexible hose that attaches to your showerhead or faucet, and a scrubber that can be filled with shampoo.
The scrubber releases shampoo as you wash your dog, saving you time and making the process more effective. This tool is perfect for dogs that are hard to wash or have anxiety about it, making the process more comfortable and less stressful. Overall, the Aquapaw Pet Bathing Tool is a must-have for any dog owner who wants to simplify pet grooming and make bath time less of a hassle.
Easy to use
Reduces water waste
Provides efficient cleaning
May not fit all dogs
Requires water source access
Dog Training Gadgets
The best Dog Training Gadgets are tools designed to help pet owners train their dogs in a more effective way. These gadgets are created to assist in teaching puppies basic obedience commands like sit, stay, and come. They aid in reinforcing the good behavior of the dog and help in correcting inappropriate behaviors. The most popular dog training gadget is the electronic collar that comprises a vibration, sound, or electrical stimulation feature. Training clickers are also an excellent alternative for training.
They help in creating a positive association with the act of doing what is expected by the owner. Remote-controlled toys, treat-dispensing gadgets, and interactive robots are relatively new dog-training gadgets that are making waves in the dog-training industry. Dog training gadgets are convenient and save time, making them an excellent tool for teaching pets obedience and discipline.
1- AUDWUD Silicone Dog Treat Pouch: The Ultimate Treat Storage Solution
The AUDWUD Silicone Dog Treat Pouch is a must-have for all pet owners. It is one of the best training gadgets for dogs that make treat dispensing a lot easier. This treat pouch can be easily strapped around the waist or attached to a leash, ensuring that you have quick and easy access to treats while training your dog. However, it is essential to be mindful of the number of treats given to a dog as too many treats can kill a dog.
The AUDWUD Silicone Dog Treat Pouch is perfect for storing just the right amount of treats to reward your dog without overfeeding them. With this pouch, training a dog becomes, even more, fun and exciting as you can easily access treats and use them as a motivator for good behavior. Your dog will surely love the AUDWUD Silicone Dog Treat Pouch!
Durable silicone material
Convenient size
Easy to clean
Drawstring closure
Hands-free carrying
Limited color options
No additional pockets
Not dishwasher safe
No adjustable strap
May not fit larger treats
2- Train Your Dog Like a Pro with PetSafe Clik-R – The Ultimate Training Tool
The PetSafe Clik-R is an amazing dog-training gadget that can help you to train your dog quickly and efficiently. This gadget works by producing a clicking sound that your dog associates with positive reinforcement. This means that when your dog does good behavior, you are able to click and reward them immediately. With the PetSafe Clik-R, you can train your dog without the need for harsh punishments or aggressive training methods.
You can use it to teach your dog all sorts of commands, from basic obedience to more advanced tricks. Whether you have a puppy or an older dog that's set in its ways, the PetSafe Clik-R can help you to improve their behavior, making your life as a pet owner much easier. So, if you're looking for a reliable and effective way to train your dog, the PetSafe Clik-R is definitely worth considering.
Easy to use
Effective training tool
Portable and lightweight
May require frequent battery replacement
May not work well for some dogs
3- Hi Kiss Recall Lead: The Perfect Tool for Effective Dog Training and Control
The Hi Kiss Recall Lead is the best gadget for dog training available on the market today. This lead is specially designed to train your dog to obey commands in a safe and effective way. It is made from high-quality materials and can withstand any weather conditions. With its durable construction, this lead is suitable for all types of dogs, whether big or small. It has a comfortable handle, which provides a secure grip, allowing you to control your dog's movements easily.
This Recall Lead is ideal for training your dog to come back to you when called. The long leash allows your pet the freedom to explore and learn while you maintain control of their safety. Overall, this gadget is an excellent investment for any dog owner who wants to train their pet in a loving and effective way.
High visibility
Easy to clean
Durable material
Good for training
Affordable price
Limited color options
May tangle easily
Not suitable for heavy pullers
Buckle may be difficult to use for some people
May not fit all dog sizes